Ready, Set, Go
About half a year ago I decided to go for it! A journey far away from home, a journey into the unknown. Flying to Denpasar, Bali, via Singapore, where the first adventures will start. After one night at Bali, we (Jiunn Der, Marjolein, Niels, Sterre en me) planned to travel to Java. We will stay one week at Java as a vacation followed by 10 weeks of study at Bali. After my period in Bali, I will leave the others and travel to Doha, Qatar, to study for another 10 weeks.
While surrounded by the mess that needs to fit in my suitcase I decided to write my first blog post.
It is already a while ago when I started preparing for this trip, so I do not know all the exact details. It is possible that I forgot something.
Holland Scholarship
The Holland Scholarship is a Scholarship that you can get if you are studying abroad outside of Europe. The Scholarship is handed out by our school (NHL-Stenden) and funded by the government. Because there is a limited amount of scholarships we had to apply for it by making a video. In the video, we had to tell who we are, where we are going, how we could share our story with other students and with you and so on.
I was buzzy with a school assignment when suddenly Eline (a classmate) screamed. She was kind of freaking out and we (the study group) had no clue what was happening. Eline told us that she the school picked here video, which means she will get a scholarship. Since I also applied for the scholarship I opened my mail account and pushed the refresh button a view times. (It may be that it was a bit more than a view times.)
I got a mail about the scholarship!!
The excitement started before even reading the mail. I had to take some control over my emotions. It would be ashamed to be excited about a rejection mail.
I could not control the emotions and I overread the sentence with the conclusion. I was a kind of confused and I asked Eline how I could see what was going on. After she pointed it out it was time to celebrate because I also got awarded with the scholarship!
Some e-mails and a month later we got a little ceremony with a drink afterward.
We met most of the people who got awarded the scholarship at the ceremony. During the ceremony we told each other where and what we are going to study. It was really nice to hear what other people are doing.
When the ceremony was done we had a drink at the cafe next to our school. Surprisingly I saw my mother walking past the school café, she decided to came as a surprise. What made this ceremony even better. Thanks mom!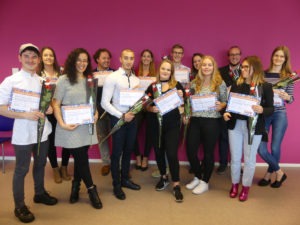 Vaccinations
After a college about our safety and well-being, it was time for vaccinations. Our school gave us the opportunity to get the vaccinations at school, but I was a little late with changing mine insures so I decided to get my vaccinations at a later moment. In July it was time for the first vaccinations. Hepatitis A and B and DTP. I had my doubts about rabies but recently there were a lot of people diagnosed with rabies so it was not possible to get a vaccination for it at that time.
Unfortunately, I got really sick the next day due to the vaccinations. (be aware 14 others did NOT get sick, so do not get scared. But be aware: if you are sensitive to vaccinations you can get sick of this one)
My second vaccination was one month later. I had to get another shot of hepatitis A and B and after a discussion, I decided to take also rabies. It was a bit stress full to fit the next appointment in. Because rabies consist also of two shots. I had to get the shot 7 days after my first one and I had only 9 more days before I would leave and a tight schedule. Luckily I got an appointment without a problem (it is a digital appointment system so there was a chance that it was full for next week.) Once I got home I took some pills hoping not to get sick. It worked!
So one week later, 1 day before I leave, I got back at meditel to get the last shot of rabies when suddenly the 'doctor' said I need a vaccine for typhoid fever. This was the same doctor who said did my first shots and told me I did not need them. I got a bit stressed because why did I suddenly need another vaccine. After looking in the system it became clear that I did not need a vaccine for typhoid fever.
The visa
Before I could go to Bali I needed a visa for my period abroad. And since we (Jiunn Der, Marjolein, Niels, and Sterre) decided to go a week earlier to Bali to have some sick vacation time, we decided we could also go together to The Hage to get our visa. I had to get up early because we would meet at 9 AM at the embassy, and I had started my journey in Groningen.
Although we had the idea we had everything we were still a bit scared: what if.. we forgot something, we didn't have the right forms. Mabey you can image.
When we arrived at the beautiful embassy of Indonesia we got our first surprise. Instead of that, we could enter the building we had to go to a small shed next to the embassy. A twenty minutes later we stood outside, outside without a passport…
SO OUR APPLICATION GOT APPROVED! After everybody arrived in The Hague we booked our first night in Denpasar so we had a place to stay and rest after arrival. We decided to book one night and see how fast we could recover to travel further to Java or Lombok.
One week later, we could pick up our passports at the embassy with the stamp of approval to enter and study in Indonesia. The last official step was done and that means we are basically ready to leave!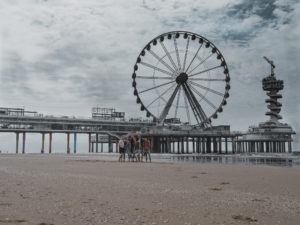 Shopping
I still needed some clothing for the warm weather and a 'uniform' for school. I can't tell anything exited out my and shopping. The only thing that I could tell is that is really hard to find long trousers that aren't too bad to wear in warm weather.
Time to pack my suitcase and say goodbye