Bye Bye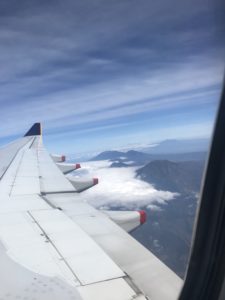 I have no idea what the local time should be, the screen in front of me says it is 10:44 PM in Singapore, 4:44 PM in Amsterdam and we still have 6 hours and 30 minutes to go before we land in Singapore. I also do not have a clue above which country we are flying, the only thing I can see is that it is getting dark. Since I finished my movie and I have to wait a bit more until dinner is served I decided it was a nice time to start off with saying goodbye
Groningen – Amsterdam
All the bags were packed, I did an online check in for my flight and the car was ready. We were not sure if I had to be 2 or 3 hours before my flight at Schiphol (I never had a long-distance flight, actually I only flew to Copenhagen and back so far), luckily everybody from the group (JD, Niels, Sterre en Marjolein) wanted to play it safe and be there early on. Since I don't like the stress in the morning I decided to go a day earlier to Amsterdam to sleep over there instead of staying at home in Groningen and get up at 5 AM. My Mother, brother, and girlfriend would join me in Amsterdam and wave goodbye at Schiphol. My father couldn't come due to his health conditions.
After an emotional goodbye with my father it was time to go to Amsterdam, check in and eat really late. Once I was in bed I started to realize it was the last evening together for the year 2018. (and a bit longer) Although I was exhausted I couldn't fall asleep. The next morning, I got brutally woke up by my alarm. Everything went pretty fast. Getting breakfast, to the shuttle bus and finding the group at Schiphol airport. We checked in our big luggage and went back to our family and friends. Now it was also time to say goodbye to my mother brother and girlfriend. My brother was very fast with a casual fist bump, a bro-hug and a "You better enjoy it, little brother". My mother and girlfriend needed a bit longer (and so did I) for saying goodbye.
We walked through the gates and waved one last time. We all went true security without any problems and not much later we were in the plane.
The flights
I was a bit nervous about the flight while I never have flown for such a long time. The longest and also my only flights were from Amsterdam to Copenhagen and back.
We already reserved our seats before the flight. So, I ended up at the window seat. Jiunn Der and Marjolein sat in the same row, Niels and Sterre sat in the middle row, so pretty close, there was only a stranger in between. It was 11:15 AM and the plane started to move. Suddenly the trip became a bit more real because there was no way back from here.
The flight itself was not that bad, of course it took long, also because I did not sleep at all. But it was more comfortable than I expected and because people told me that flying is a hell for 'taller' people. (for the record I am between 185cm and 190cm) We flew with Singapore Airlines and I think it was the model was an A359. Around 9 PM Amsterdam time we got 'breakfast' served with turbulence. Luckily the turbulence was not that bad and only hold on for 30 minutes. According to plan we landed at 5:55 AM in Singapore. In the plane, we said goodbye to Niels, Sterre, and Marjolein because they had a different flight to Denpasar (with 1-hour overlay). Jiunn Der and I had an overlay from 3 hours. We chose this on purpose because it was 80 euros cheaper and we did not know if we could make it to the other plane in 1 hour. After a look around at the airport, we decided to go to the gate to sit over there. It was as I could count every second…. After another security check, we could enter the plane and we left around 8:20 AM (Amsterdam Time). This was a good time to watch the end of Cars 2, which I started in the previous flight, feel sick and do two extra rounds around Bali, before we could finally land.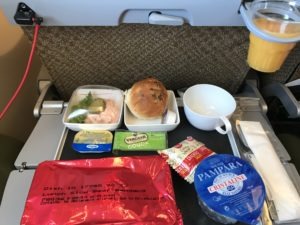 The first steps in Bali
After we landed and got to the immigration we saw our driver with a sign in the big mass of other drivers. Luckily, we had Wi-Fi and heard from the others that they couldn't find their driver. So, they were still at the airport. After we came together and got arranged transport for all of us we were ready to leave. In the meantime, that we were waiting we got surrounded by people who tried to touch our luggage and bring it to the taxi pick up place. After declining the not so friendly offers it was time to get in the Bali traffic. It is really indescribable you have to see it with your own eyes. It took some time but after an hour we arrived at the NEO hotel in Denpasar.
Two days of recovery
Our bodies needed a day more for resting so we decided to stay another night at the hotel. We basically swam slept and eat so here is a list with some things that drew my attention.
Like I said I was highly impressed by the traffic in Denpasar
The amount of people tries to sell you things at the airport
People who wanted to take your bags
The fact that it was logic to put two one-person beds in a room for three. (we had to pay extra for the other bed)
That somebody already stayed in one of our pre-booked rooms.
Everything was cheaper than I expected
In the next blog we finally start with some crazy adventures so keep an eye out!
Unfortunately, I lost almost all the photos and videos of the travel and the first two days in Bali. Otherwise, I would add a video over here.